Poetry and Art Meet in Austin, Texas

In photo: Laurel Daniel, Susannah Morgan and Christine Beck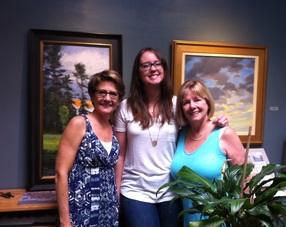 I recently asked my publisher for the contact information for Laurel Daniel, the artist who created the painting on the cover of my book, "Blinding Light." I knew her painting was the perfect choice when I discovered that she had independently titled her painting "Blinding Light." Imagine my surprise to learn that Laurel lives in Austin, Texas, where my newly-married daughter had moved three months ago! Clearly, I needed to meet this woman with whom I shared so many coincidences.

We met at The Davis Gallery in Austin late in June. The gallery was humming with works from different artists who exhibit there and Laurel walked me through, pointing out highlights of each artist's work. The assistant gallery director, Susannah Morgan, is enthusiastic and fascinating to talk to. This was my only "sightseeing" this trip, and an excellent choice.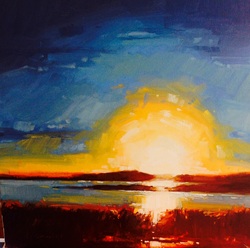 Laurel then presented me with the original of "Blinding Light: "There's no one I'd rather have own this painting than you." I was overwhelmed both by her generosity and by another unexpected coincidence. The original clearly dispelled my belief that the painting was of a sunset. The version that appears on my book shows an orangey-yellow sun that I concluded was sinking into the sea and a darkened sky. When I looked at the original, I saw I was wrong. The sun in the original is yellow, not orange and the light is that of morning, not evening. The moment mimicked the "aha" moment we often experience in poetry, when we instantly perceive some truth that was hovering beneath our consciousness.

For me, it was as clear as night from day—literally! I thought I was looking at night, but I was actually looking at day. Or, how does night masquerade as day? Or, which is a "better" representation of my poetry collection—the idea of sunset or sunrise? Can both be true simultaneously? Or, how is my experience "colored" by the fact that this painting travelled digitally from Austin to West Hartford, Connecticut and took on more darkness through each transmission? How do I experience the painting knowing that the scene is a sunrise very near my daughter's new home?

As we shared our stories over lunch, I learned that Laurel is expecting the birth of her first two grandchildren next month, a sunrise experience. I am experiencing my eldest daughter as a new wife creating a life in Texas with her husband, sunrise for her, sunset for me. And yet there is the sweet circularity of the sun, and the sure knowledge that practicing the art of gentle waiting, the sun will rise again on each experience I initially perceive as an ending.